Or why putting sweet potatoes in a cake is a great idea.
Because my London kitchen is lacking some of the necessities of dessert baking and because of my newly found calorie conscience, it has been far too long since I last baked anything. Yesterday, I was on a mission to change that. I dug around through some of my bookmarks and came across this gem: Cook Yourself Thin's Apple and Cinnamon Cake.
This is where the sweet potatoes come in. If you have never heard of Cook Yourself Thin, the basic idea is to take meals that you love and transform them into healthier versions. So this lovely Apple and Cinnamon Cake, for example, uses ingredients like ground almonds and two cups of shredded sweet potato to aide in binding and sweetening while lowering the amount of sugar needed and eliminating any oil or butter. The result was fantastic! You really can't tell that any alterations have been made here. My husband had no idea and he is quite the critic. Let's get started: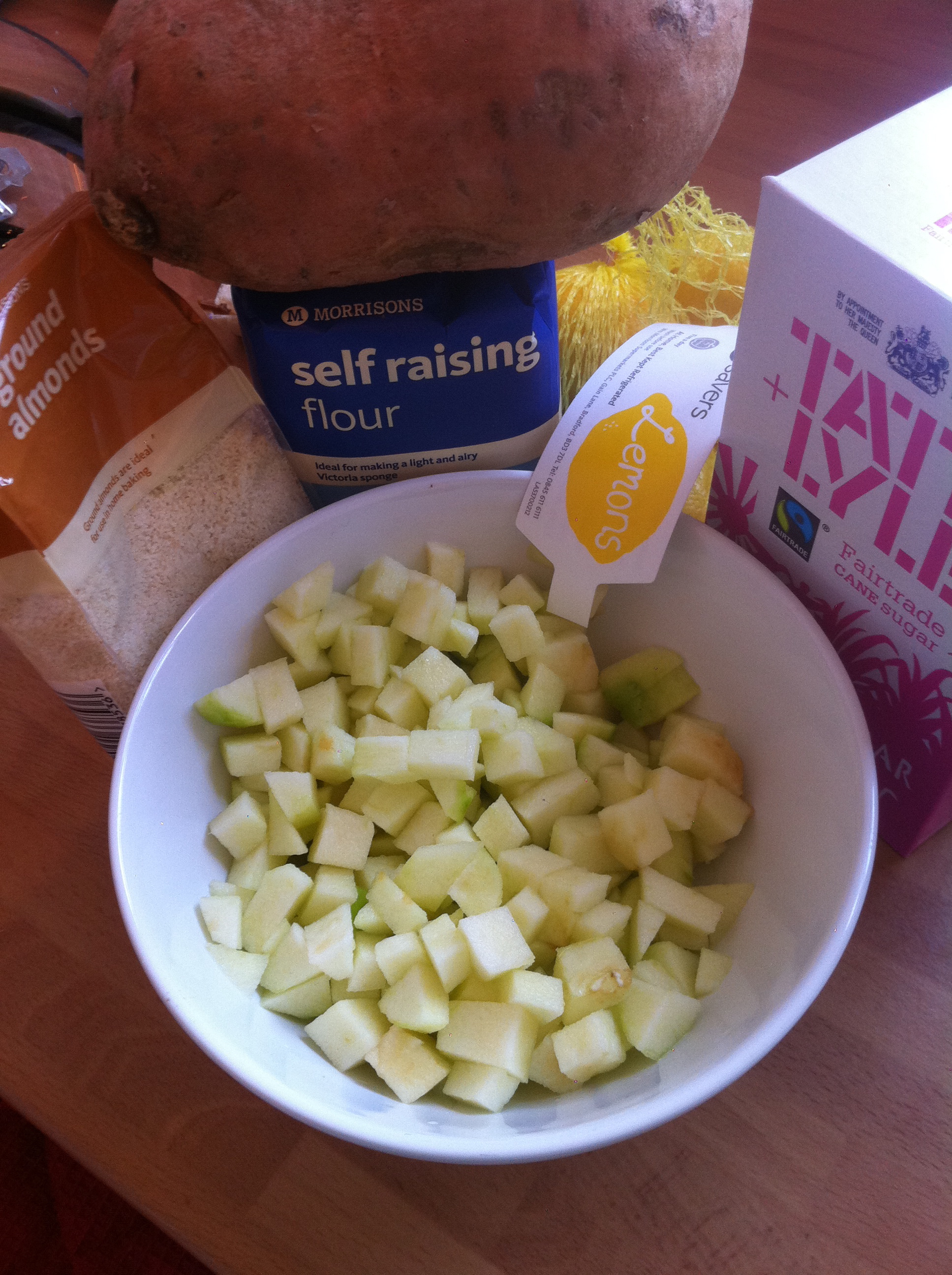 The full ingredients list can be found on their website. I will say: don't skip the self-rising flour, you will need about 1 sweet potato for the whole two cups, and ensure you buy enough ground almonds as the cake calls for 1 & 1/4 cups. I personally used a single green bramley apple. As for the sweet potato, I couldn't find the white variety at my grocery store, so I just went for the regular kind and it turned out just fine. I'm sure if you use the white kind, your cake will just be a different color than the one pictured here. Start by chopping and coring your apple. Don't forget to sprinkle a bit of lemon juice on it to stop it from discoloring. Then I went ahead and shredding the sweet potato.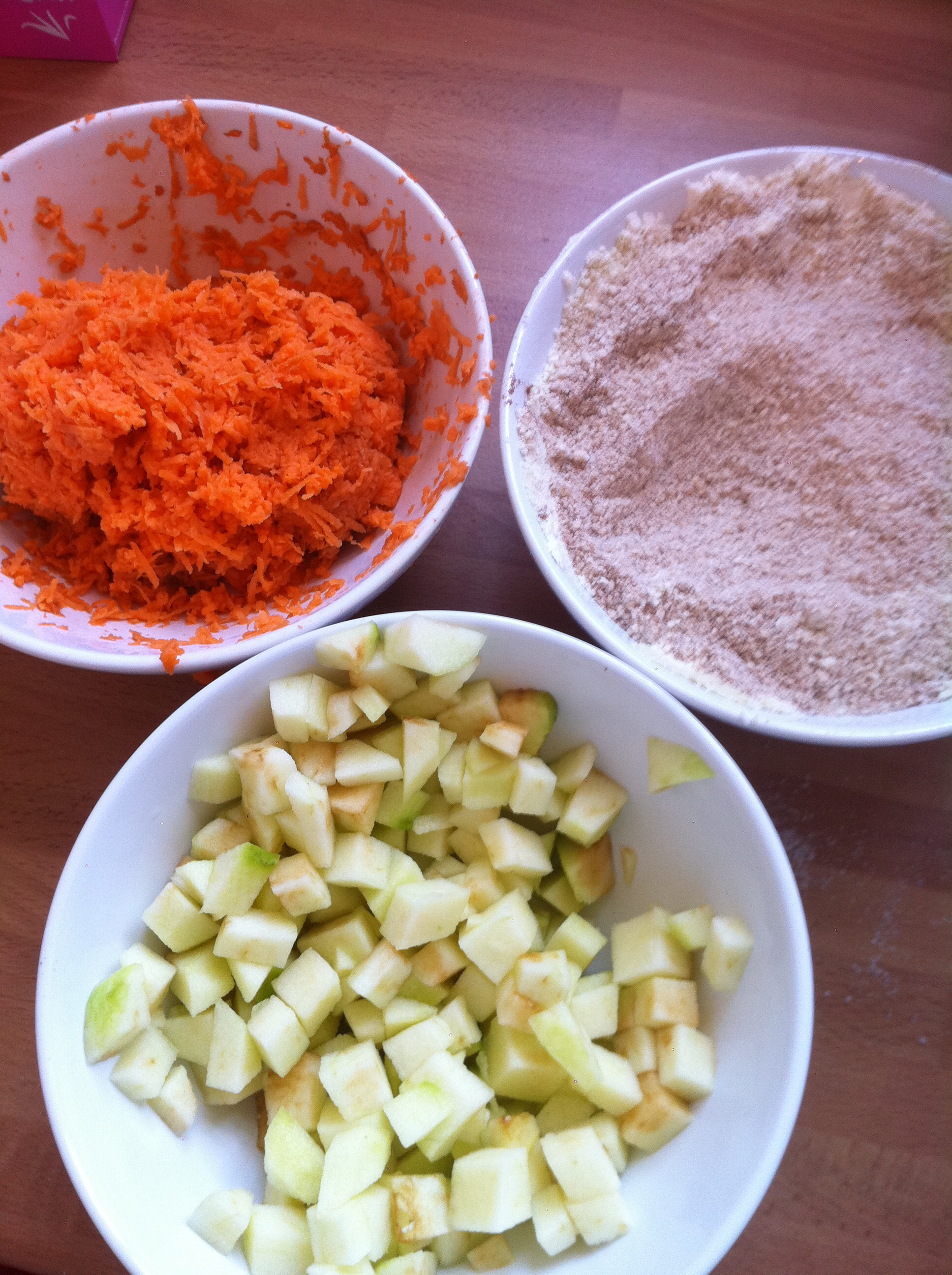 Shredding the sweet potato is time consuming, but the upside is maybe you're burning calories and working out your arms all at one time… Okay so that is an exaggeration but shred the sweet potato. It's worth all the effort. Then mix your dry ingredients together. Next, mix the sugar and eggs until pale and tripled in size, about 3 minutes: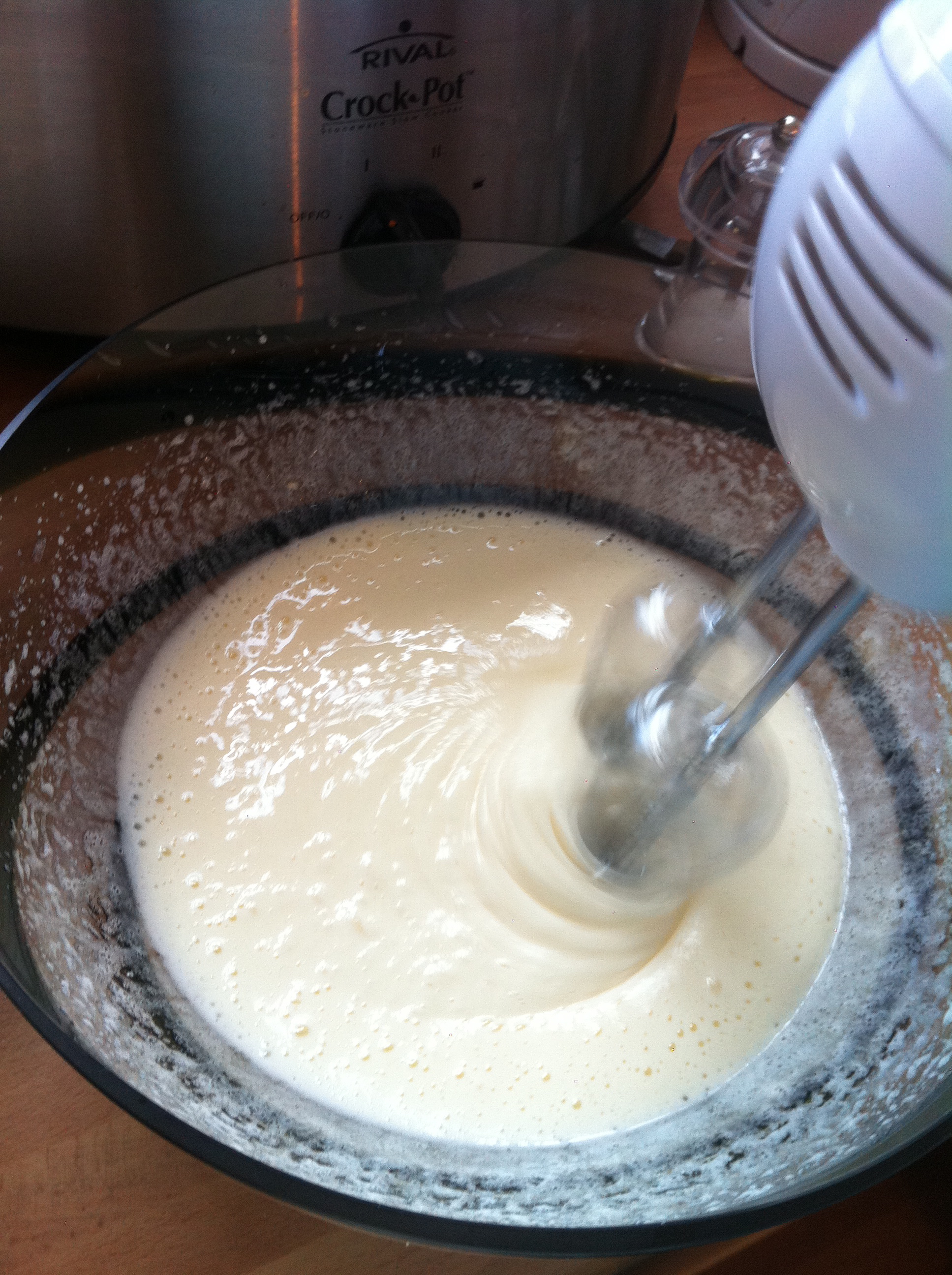 Then, add the sweet potato and the dry ingredients. Don't be freaked out if your batter is super thick and looks slightly unappetizing. It will look something like this at this point (and yes I know, I got sweet potato on my crock pot.) :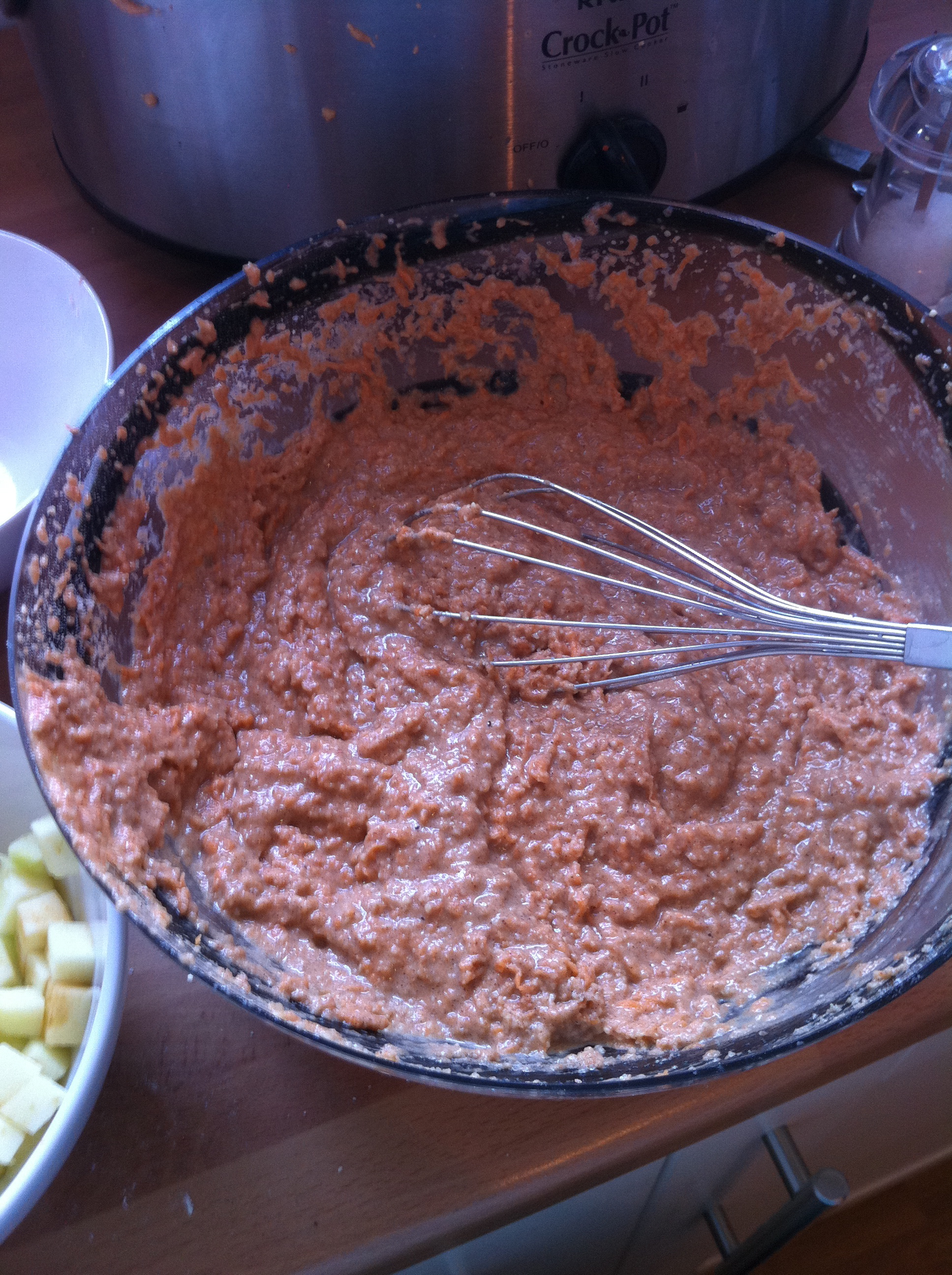 Fold in your apples carefully, and put the batter into your prepared pan. I don't have a springform pan, so I just used my silicon 8 in' round. This worked out just fine.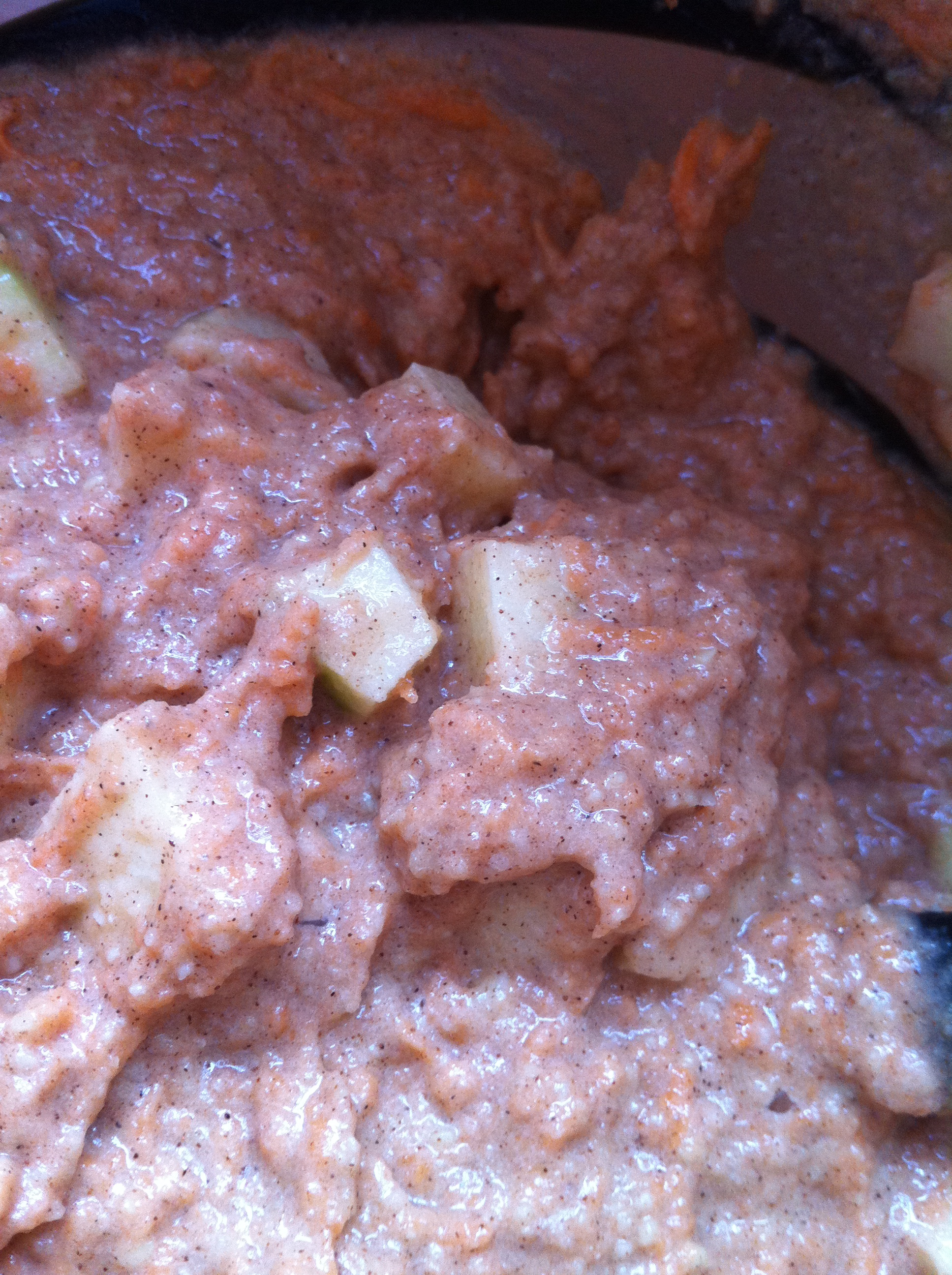 Now, bake at 350F (175C) for 30 minutes uncovered. Then, cover the cake with foil and continue cooking for another 30 minutes. Once the cake has cooled, make your icing. The recipe calls for 1 cup icing sugar and 4 tablespoons fresh lemon juice. Make sure your cake is cooled enough before icing it though, because if you don't, the icing will just seep into the cake and make it a bit soggy. Final step: EAT!!!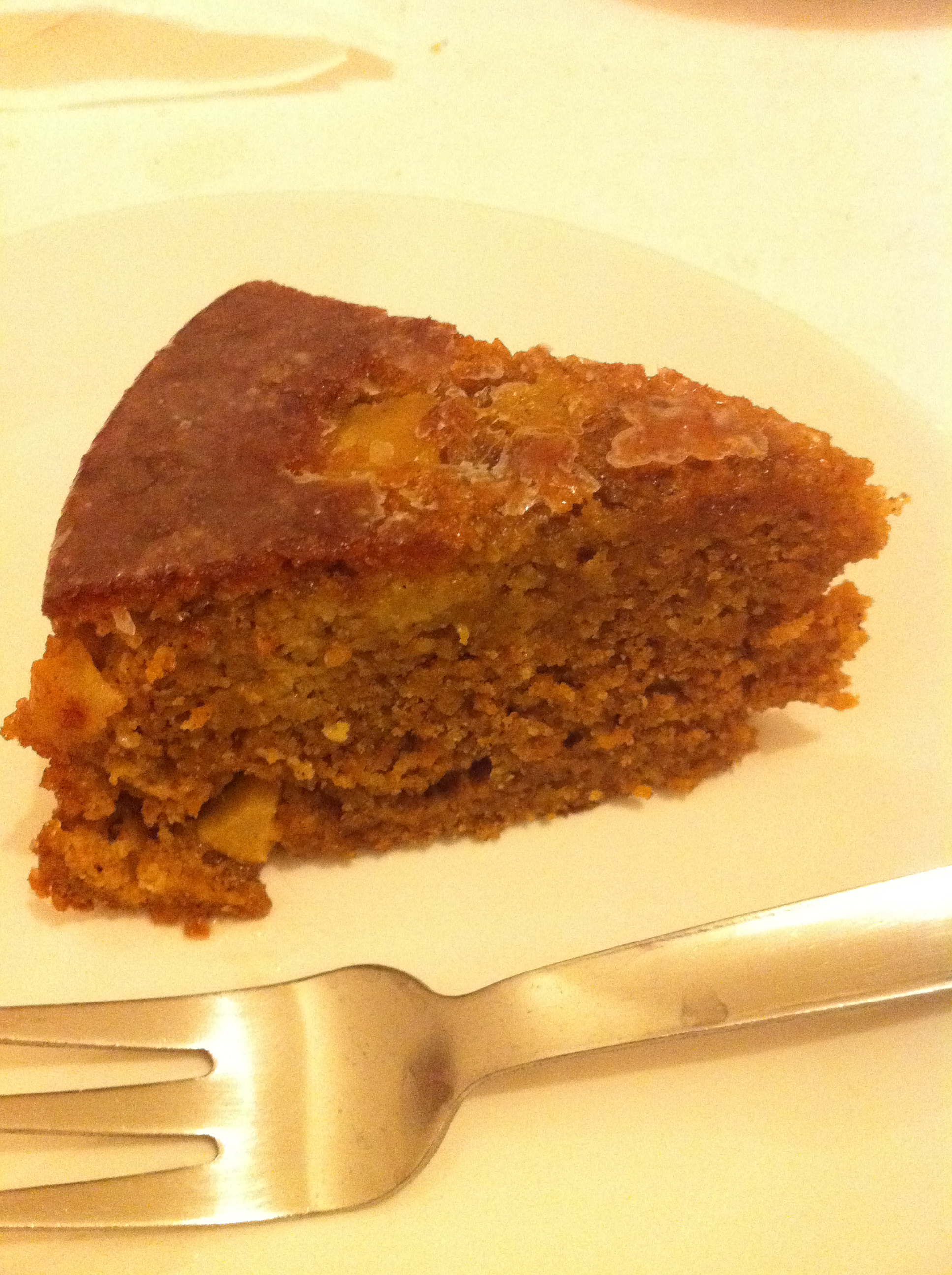 Expect a moist spice cake with tart apple goodness! Best of all, it comes in at 243 calories per serving (12 servings total). Even if you're not making it for the calorie count, make it because it's delicious!